Kansas University, which had an 18-game winning streak motivated partly by students tweeting shots of their boobs, now has been having a three game losing streak.
http://www.usatoday.com/story/sports/ncaab/2013/02/09/reeling-no-5-kansas-loses-third-consecutive-game-to-oklahoma/1905643/
Maybe this is due to the Jayhawks having some cold shooting; maybe it's because the opposition is responding with higher caliber ammunition.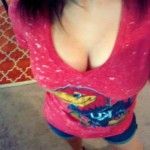 This is the time to call out Big Bertha. with her DDs.